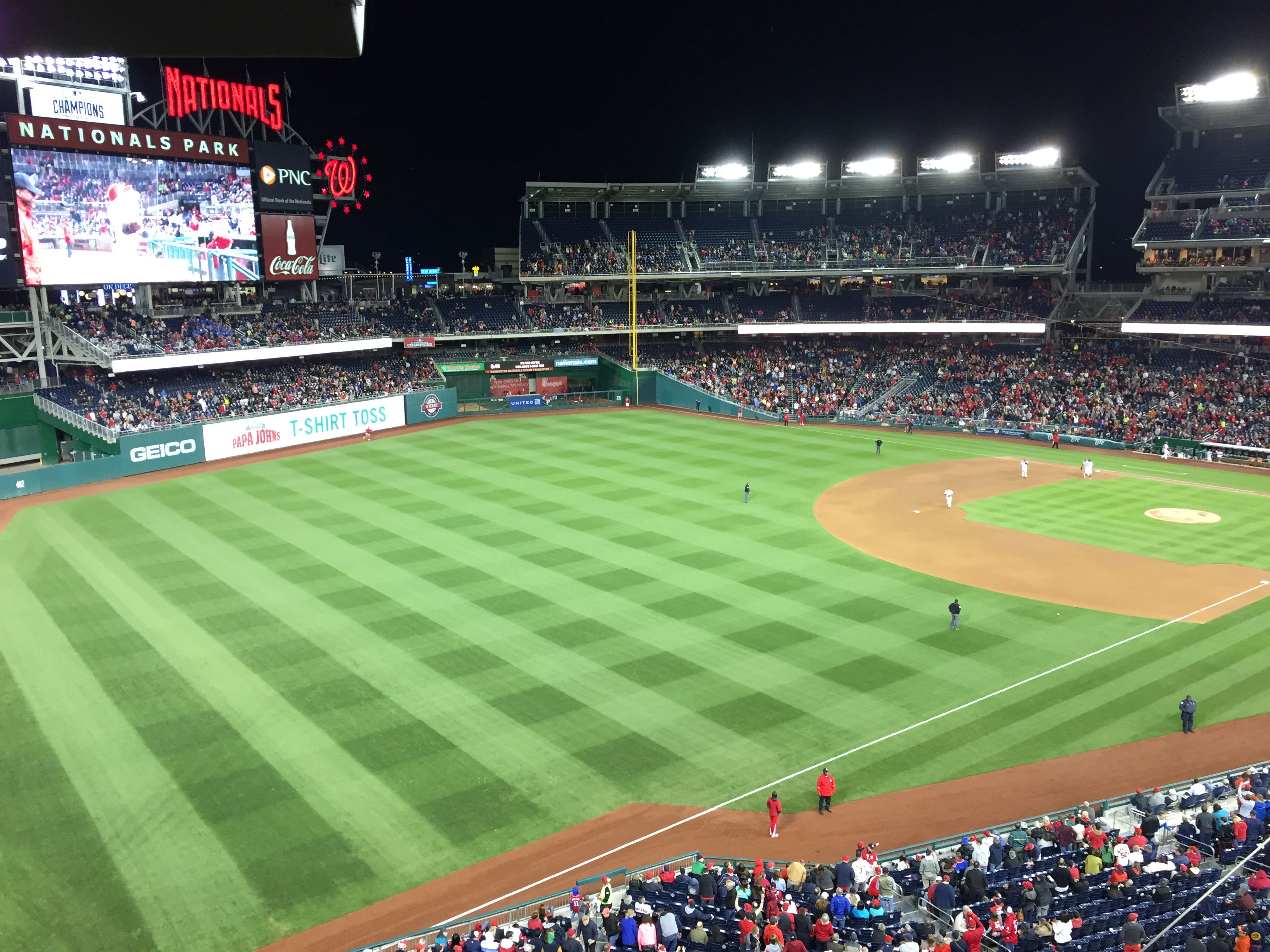 Nats game at Nationals Park in Washington, DC. It is after sunset, the field is fresh and green with a criss-cross pattern. The stands are full. The marquees are lit. The lighting is bright. Play ball!
Photo date: April 22, 2015
---
This picture was shared by anniegreens 8 months and 3 weeks ago.
JPG iPhone 6 3264 × 2448
EXIF Explorer

| | |
| --- | --- |
| File Type | JPEG |
| File Type Extension | jpg |
| MIME Type | image/jpeg |
| Exif Byte Order | Big-endian (Motorola, MM) |
| Make | Apple |
| Camera Model Name | iPhone 6 |
| Orientation | Rotate 180 |
| X Resolution | 72 |
| Y Resolution | 72 |
| Resolution Unit | inches |
| Software | 8.1.2 |
| Modify Date | 2015:04:22 20:43:53 |
| Y Cb Cr Positioning | Centered |
| Exposure Time | 1/30 |
| F Number | 2.2 |
| Exposure Program | Program AE |
| ISO | 40 |
| Exif Version | 0221 |
| Date/Time Original | 2015:04:22 20:43:53.421 |
| Create Date | 2015:04:22 20:43:53.421 |
| Components Configuration | Y, Cb, Cr, - |
| Shutter Speed Value | 1/30 |
| Aperture Value | 2.2 |
| Brightness Value | 4.213605442 |
| Exposure Compensation | 0 |
| Metering Mode | Multi-segment |
| Flash | Auto, Did not fire |
| Focal Length | 4.2 mm (35 mm equivalent: 29.0 mm) |
| Subject Area | 1631 1223 1795 1077 |
| Run Time Flags | Valid |
| Run Time Value | 523398321363708 |
| Run Time Epoch | 0 |
| Run Time Scale | 1000000000 |
| Acceleration Vector | 0.9791552386 0.006532144533 -0.1905879951 |
| Sub Sec Time Original | 421 |
| Sub Sec Time Digitized | 421 |
| Flashpix Version | 0100 |
| Color Space | sRGB |
| Exif Image Width | 3264 |
| Exif Image Height | 2448 |
| Sensing Method | One-chip color area |
| Scene Type | Directly photographed |
| Exposure Mode | Auto |
| White Balance | Auto |
| Focal Length In 35mm Format | 29 mm |
| Scene Capture Type | Standard |
| Lens Info | 4.15mm f/2.2 |
| Lens Make | Apple |
| Lens Model | iPhone 6 back camera 4.15mm f/2.2 |
| Compression | JPEG (old-style) |
| Thumbnail Offset | 1690 |
| Thumbnail Length | 11860 |
| Image Width | 3264 |
| Image Height | 2448 |
| Encoding Process | Baseline DCT, Huffman coding |
| Bits Per Sample | 8 |
| Color Components | 3 |
| Y Cb Cr Sub Sampling | YCbCr4:2:0 (2 2) |
| Run Time Since Power Up | 6 days 1:23:18 |
| Aperture | 2.2 |
| Image Size | 3264x2448 |
| Lens ID | iPhone 6 back camera 4.15mm f/2.2 |
| Megapixels | 8.0 |
| Scale Factor To 35 mm Equivalent | 7.0 |
| Shutter Speed | 1/30 |
| Thumbnail Image | (Binary data 11860 bytes, use -b option to extract) |
| Circle Of Confusion | 0.004 mm |
| Field Of View | 63.7 deg |
| Hyperfocal Distance | 1.82 m |
| Light Value | 8.5 |